Memories of Hall Green Junior School
---
Send me an EMail
If you were at Hall Green Junior School, I'd really like to hear from you about your memories of Mr Macmillan, Miss Dickerson, the old huts from infants etc. Im hoping there will be those who left Hall Green in 1988 because Im trying to organise a reunion and it would be good to hear from you all. If anyone else is thinking of a bigger reunion with more years, then perhaps someone can help me sort something out.

My email is as ever sjdean@blargle.co.uk
---
Hall Green Junior School
It was 1988 and the last day of junior school at Hall Green Junior School. In a few months, we'd all be heading off our separate ways to secondary school. Some of us would be going to Hall Green Secondary, Moseley, Light Hall or Ninestiles etc.

Little did I realise how important that last day was.

16 years later, looking through my photo collection, I find photo's of the trip to Lyme Regis. Hall Green Junior School had organised an easter trip to Lyme Regis, to HF Holidays place called Coram Court if Im not much mistaken. Sadly the place has been pulled down, but the photo's and the memories remain. But the friendships have mostly been lost.

That fateful last day at Hall Green Junior School, I realise now was a let down. I never swapped numbers or signatures with anybody. I was always particularly unconfident, so that was pretty much the last time I saw anybody from Junior School.

16 years later, I was determined to try and find my old friends. Through trying to find people, its incredible to realise people like Graeme Butlin, and David Garlick only lived just around the corner from me. I used to deliver newspaper's to Karen Blacks and Ben Rogers' house every week! And many of the names remained in the area of Hall Green for many years. Now, trying to find most of these people again, seems like a lost cause, but I have to try.

I've been volunteered into organising a reunion. You can read more about it here. Hopefully the reunion can be regular with more people each time. That's one of the reasons for this website, it'll give Google a way to store something about Hall Green Junior School in its cache. Then those from the school, when they're searching, they might come across this site!

I thought I'd throw something together about my memories first.
---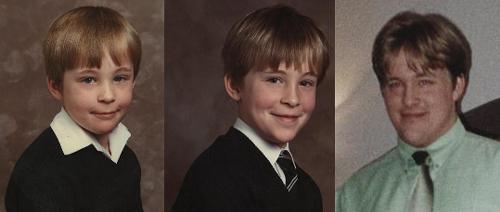 Simon Through the Ages
At Infant School, Junior School, and as a fat smegger in 1999!
---
After Infants
I was also at Hall Green Infant School. In many ways, it was quite traumatic. I only found out quite recently, that I was in top year infant class with Mrs Murphy, with many familiar names, like David Bridgwater, James Richards and Chris Parkes. And then for some bizarre reason, everyone was split up into different classes when going to Hall Green Junior School. I guess maybe that's why I remember David Bridgwater's name, but not his face.
---
First Year Juniors - Miss Jones
Miss Jones was a delightful woman from what I can remember. Very patient, but step out of line, and you're in trouble.
I remember when I doodled on the blue wall's of the class in green felt tip ink. I was so ashamed of myself. I don't know why I did. I just remember being sort of half comatose, not really knowing what I was doing. I tried to repair my mistakes, but that ink wasn't coming off.
It was that year as well, I looked up Josephine Morris's skirt. And surely everyone can remember the books in the corridor?
---
Second Year Juniors - Miss Dickinson

| | |
| --- | --- |
| Another fantastic teacher. I don't know how to describe her really, I can't remember much of what I learnt. But most of the class I think were infatuated with Miss Dickinson. Im not sure why - maybe she was too much like our mother's and not like a teacher! | Miss Dickinson, my second year teacher from Hall Green Junior School |
---
Third Year Juniors - Miss Czneska
This teacher was crazy. She wore black all the time, and had I guess a rather demeaning system of silver and gold stars.
This was the year I first befriended Darleen Foster, I was to meet her later again in Moseley School.
I was told off by Miss Czneska for looking at my watch. I think it was a birthday present, and I was so proud of it, but Miss Czneska had the ability to quip something to make you feel small.
This was the year at Hall Green Junior School, that we made corn dolly's and bits of bread. We also tried raising some money for something, by bringing games in and charging everybody 5p or something. While everyone else had the cool games, like Downfall, I had Boggle. I think the only 5p I made was off Mr Clee!
This year, I was also well respected when we had a story told tom us outside on the grass in beautiful sunshine. It was to be another typical boring lesson with Miss Czneska, but the janitor decided that was going to be the time to remove the broken off nail in my desk.
---
Fourth Year Juniors - Miss Nash

| | |
| --- | --- |
| Everyone was afraid of Miss Nash, until you actually had her for your lessons. Miss Nash was a wonderful lady, often giving the impression of being steely cold being the deputy head, but at the same time, she dedicated herself to the children, to their welfare. She taught us well, inspired much confidence, and I'll always remember her. | Miss Nash, my fourth year teacher from Hall Green Junior School |
---
Miscellaneous