Bass Player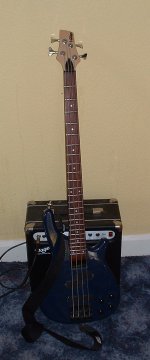 Geddy Lee, John McVie, John Deacon, Danny Weinkauf, Graham Maby... so many great bassists. OK, apart from Geddy Lee, its not the exact best bassist list, but those are my influences. Listening to them, how could I possibly not pick up the bass?

I picked my first, and currently only bass guitar in the middle of 2001. Since then I have been trying my hand at playing along to some of my favourite Rush, Fleetwood Mac, They Might Be Giants and The Muffs tunes.

I think Im getting good but I can handle criticism.

Im hoping I can play better soon (before I have to get my bass refretted). I need to get some lessons but sadly, I can't afford them just yet. Why the bass? I have so many ambitions in life. I want to do everything I possibly can! That means being the best web developer, being the best programmer, being the best looking person, being rich, seeing the world, and being the best bassist - better than Geddy Lee even! I see no reason why I cannot be. So Im looking towards joining a band and being the bass player. Maybe I could sing as well.

Unfortunately my recording equipment is crud. I'd like to get some sound samples up, but the line out on my amplifier seems to be no such thing, and my computer is the only recording device I have. Consequently, I cannot record myself playing.